Infantile brain damage
Daniel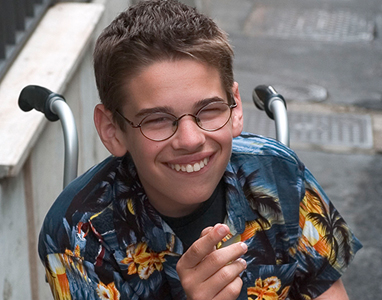 Daniel, who suffers from cerebral paresis (tetraspasticity) after infantile brain damage, used the STIWELL electrotherapy device to strengthen his muscles and to improve muscle control.
Daniel suffers from tetraspasticity due to infantile brain damage. All four extremities are affected, the muscles of his left hand are already severely shortened but he can still use his right hand very well. He has severe bending contractures in the lower extremities. Daniel was able to walk with four-point sticks. Due to a growth spurt at the beginning of puberty, muscle shortening caused a loss of many acquired skills. During therapy Daniel also received botulinum toxin infiltrations.
Daniel's mother says:
"To be successful we supported this treatment with an active physioprogram, increased stretching and the STIWELL myofeedback device. We placed the electrodes for strengthening on the back and thigh. We use myofeedback to innervate various leg and arm functions. We saw the first progress within the first six weeks.
Daniel broke through certain leg movement patterns, i.e. he does not tuck up his legs when he exerts himself. He became stronger which was particularly obvious in (supported) standing up. He can help more and support his weight for a short time. His newly gained strength is most obvious when he is trotting on horseback. His back is much straighter, his head stays up and under control, and he can push himself up with his legs.
We used the myofeedback particularly for the abductors (abduct leg laterally), the front thigh muscles (stretching the knee) and buttock muscle (prone position, raise bent leg); approximately three times a week. Improved control of the treated muscles was seen after 2-3 weeks."