Theo (transplanted hands)
Denervated muscles (hand rehabilitation of transplanted hands)
Theo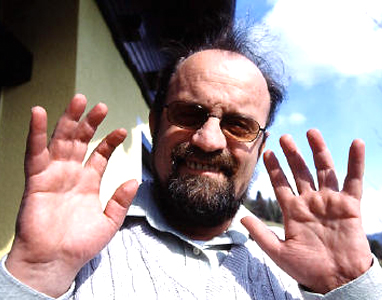 After application of the STIWELL electrotherapy device, Theo now has complete use of his transplanted hands.
In 1994 the Austrian police officer Theo Kelz from Carinthia lost both lower arms when a bomb exploded while he was on duty. Shortly after the accident, Theo Kelz had the idea to have a dead person's hands transplanted. His dream of having real hands again was fulfilled in March 2000 when Univ.-Prof. Dr. Raimund Margreiter transplanted donor hands in a spectacular surgery at the University Clinic of Innsbruck – the second such surgery worldwide.
During rehabilitation Theo Kelz was supported by Ass.-Prof. Dr. med. Marina Ninkovic. To activate functionality of the transplanted hands, he used the programme for denervated muscles of the STIWELL electrotherapy device. This programme is particularly suitable for nerve regeneration.
"The success was wonderful. Thanks to STIWELL I have complete control and use of my new hands."