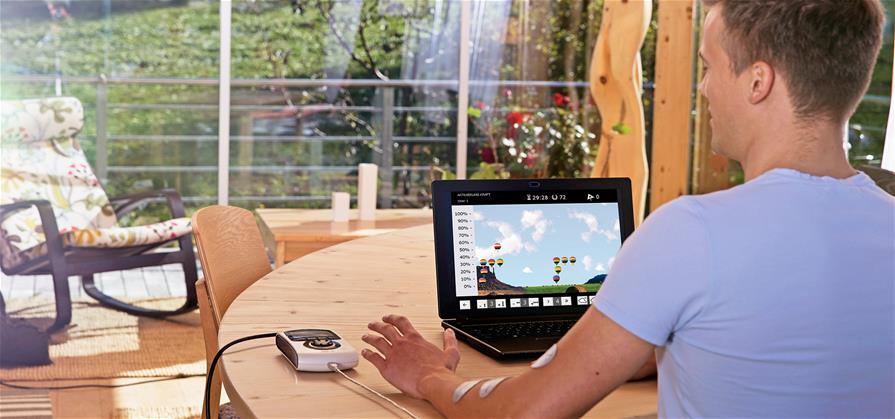 STIWELL med4
- state-of-the-art technology and therapy applications
Why is the STIWELL med4 unique compared to other electrostimulation devices?
In contrast to conventional electrostimulation devices, the STIWELL med4 offers
as additional therapies for the treatment of disorders or injuries of the central nervous system (stroke etc.) and the strengthening of the pelvic floor muscles in cases of incontinence.
4 stimulation channels allow practicing functional everyday movements.
With 2 measuring channels, the STIWELL med4 allows playing biofeedback games and visualizing them by EMG-triggered stimulation.
The patient's active participation and increased motivation by controlling successful performance through immediate feedback make this therapy highly effective. EMG-triggered stimulation combines biofeedback training and stimulation. Acoustic signals and motivating games encourage the patient to move actively. As a consequence, new connections are formed in the brain and the lost motion sequences relearned.
What is EMG-triggered stimulation?
Neurological disorders can limit a patient's ability to voluntarily contract their muscles. In contrast to conventional electrotherapy devices, the STIWELL med4 has 2 measuring channels in addition to 4 stimulation channels. These measuring channels enable continuous monitoring of tonicity (muscle tone). Electromyography (EMG) measures a muscle's electrical excitation which leads to muscle contraction in healthy subjects. With a certain degree of muscular activity (e.g. by actively contracting the muscle), the muscle will only be electrically stimulated after reaching a preset threshold. During therapy this threshold can be continually adjusted to reach the best possible approximation to the original maximum contractibility. The patient sees even minute successes in therapy. This increases motivation and creates a positive mood. The therapy aims at increasing the patients' mobility competences and improving their quality of life by increasing their ability to independently perform daily activities.

Its functionality makes the STIWELL med4 a suitable electrotherapy device for all phases of rehabilitation. The responsible physician or therapist should ensure correct application of electrotherapy by following up on the rehabilitation progress and adjusting the stimulation parameters as necessary.

Electrotherapy studies
In 2009 Sabine Mangold, PhD, and colleagues investigated the effects of functional electrostimulation of the upper extremities in early stroke rehabilitation at the university clinic Balgrist. Integrating electrostimulation into conventional ergotherapy led to a highly significant improvement of the patients' independence. An improvement of the Extended Barthel Index (EBI) by 25% was observed.
(Mangold S. et al., Motor training of upper extremity with functional electrical stimulation in early stroke rehabilitation, Neurorehabilitation and Neural Repair, Feb. 2009, Vol. 23(2): 184-190.)